I love fairy tales; I own a set a beautifully illustrated Folio edition copies which inspire me to no end with their intricate paintings and thick pages. So, I decided to write up a whimsical list of ways to live like a fairytale everyday.

* Dye your hair powder white or get a white wig.
* Collect gold filigree necklaces
* If you have long hair, tease it thick, then wrap with a strand of
pearls or rhinestones and up into a bun.
* Learn how to stoke a fire.
* Own a turban; pin feathers to the front with a rhinestone
* Sew splashes of florid beading to your plain shirts.

Stick to colours in either extreme pastels like powder blue, silky lilac, cream, sea-foam green, peach and satiny white OR deep, rich colours like blood orange, royal blue, emerald green, mauve, maroon, magenta, and teal.
* Thread your heels with satin ribbons
* Put a single rose under a plant Bell.
*Pin feathers to your hair
*Leave a lone shoe on the steps of your public library.
*Pick up the perfume "

Hasta la Muerte", from "The Morbid the Merrier".
Many Fairytales have Arabian influences so:

* Buy a pair of curly-toed Indian Slippers.
* Own a pair of harem pants
* Display a antique hookah in your room
* Layer a brocade vest with lace-y camisoles
* Line your eyes with smokey kohl and a bindi at

the corner of one eye.


* Cook curry and Naan bread.
* Spread your room with piles and piles of Moroccan
sitting cushions.
* Make intricate henna tattoos on your arms, legs and neck.
* Watch sunsets while drinking tea or coffee from tiny coloured glasses.
*Learn to belly-dance.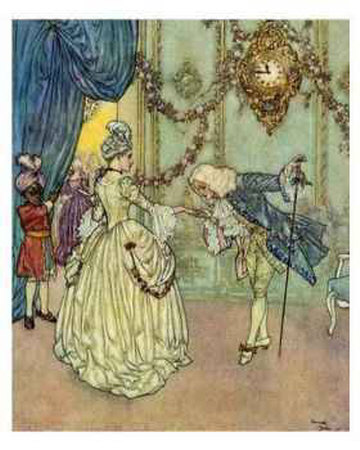 * Learn how to do finger-waves.
*Collect Victorian bric-a-brac like tea cups, baroque clocks,
walking canes, hat stands, and empty perfume bottles.
* If you do wear trousers, pair them with billowy poet tops,
knee high boots and and a velvet blazer.
*Visit a farm and talk to the animals.
For the Seasons
:
Winter/Fall
= Thick wool coats in plum, navy, and black, silver buttons. Learn to love the rain; Nordic sweaters. Outfits themed around winter sunsets: white, pale pink, peach. Smudge your eyes with dusty grey eyeshadow and have long, dewy eyelashes.
Raggedy, thread-bare, tea stained scarves, take baths by candle-light. Red leather gloves, faux fur muffs, plaid capes, pleated wool skirts, copious amounts of tea (as well as apple cider) and good books. Grey tights, filled with holes, worn with a faux-fur coat, beret and Victorian-esque heels.
Wrap your Christmas presents with brown paper and tie them off with string. Holly pinned to you hat or coat, write letters in front a roaring fire using a quill and ink. Cocktail rings on *every* finger, ivory corsets with over sized storm-coloured cardigans.
Spring/Summer
= Floral trench coats and white dresses. Long, feather earrings. Clear umbrellas, white knee socks in Summer, messy ballerina buns. Pewter gladiator sandals with mauve skirts and creamy blouses. Learn to paint with water colours. Wear a mini top hat, make flower crowns.
Pin up your skirts and catch sticklebacks in a nearby stream. Snack on macaroons; nude nails, pockets watches. Fantasy hair in lilac, white and blue. White eyelashes, learn to make sun tea, read the "Wind in the Willows". Make a picnic and go cloud watching. Wear vintage slips as shirts, along with blue linen skirts and stacks of bangles.
Climb a tree and read Poetry between the branches; string your room with Christmas lights and stay up late playing the harpsichord. Crocheted tights and wellies, collect raw gems and make them into jewelry, porcelain-pale skin with rosy blush. Blue ribbons in your hair, and water lilies in china cups.

Well, darlings, what do you think? Have any tips of your own for making life like a Fairytale?



Images credited to Edmund Dulac.